Two events in a 17th century Lincolnshire manor – a concert and an early music tutorial weekend: details and tickets below.
· From the Troubadours to Shakespeare, concert, 13th July 2018
· Early Music for the Curious, weekend, 28th–30th September 2018
Wykes Manor, Wykes Lane, Donington, Spalding, Lincolnshire, PE11 4SD
Concert performer and weekend tutor: Ian Pittaway
(voice, harp, gittern, citole, koboz, lute, bray harp, mandore)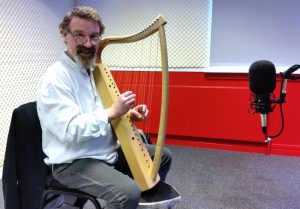 "superb … breathtaking … fine singing … compelling … a virtuoso." ~ Alcester Folk Festival
"treasures of interpretation … a treat for the ears … moments of genuine tenderness with a mellow tonality … melodic, reflective and unforced. Ian's instrumental virtuosity can't be faulted, masterful on anything he turns his frets to." ~ English Dance & Song magazine
"When you're as talented an instrumentalist as Ian, you have to be careful not to let the accompaniment dominate the song. Ian gets it absolutely right … a mature talent well in command of the material." ~ Folk Monthly
"… beautiful set … a brilliant performance enthusiastically presented by a master musician to an appreciative and attentive audience that, quite simply, loved it. Wonderful." ~ Folk at the Fold
"Ian always gives fascinating origins of the songs. His easy-going manner engages the audience; and the night was an object lesson in talking about the songs in an entertaining way – as well as some fine singing and playing." ~ Warwick Folk Club
"As authentic as you can get without a time machine." ~ Express & Star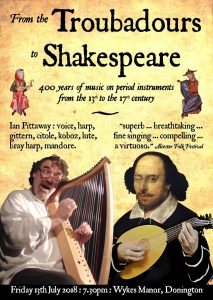 CONCERT
From the Troubadours to Shakespeare
400 years of music on period instruments from the 13th to the 17th century
Spend a night in the company of the troubadours, Geoffrey Chaucer and William Shakespeare, hearing the music they enjoyed, played on the instruments they knew: voice, harp, gittern, citole, koboz, lute, bray harp, and mandore. Your musician for the evening is Ian Pittaway, historical music performer on stage and TV (UK TV Drama's The White Princess, BBC's Horrible Histories and early music duo The Night Watch), played in the 17th century Wykes Manor.
You will hear songs of medieval courtly love; some of the earliest surviving secular songs in English (about the weather, naturally); a song about the Virgin Mary reanimating a pork chop and another where she removes kidney stones; a newly-discovered piece of The Canterbury Tales and a tune Chaucer mentions; a harp named after a donkey; several songs sung in Shakespeare's plays; and quite possibly the smallest stringed instrument you've ever seen.
With songs, tunes, tall stories, joining-in choruses and an opportunity to see medieval and renaissance musical instruments close-up, this is an evening for peasants or gentry of any age, suitable for anyone from the curious novice to the early music enthusiast.
Friday 13th July 2018, 7.30pm
Wykes Manor, Wykes Lane, Donington, Spalding, Lincolnshire, PE11 4SD
Tickets (to be sent by email with full travel directions) £10 each.
Select number of tickets below then click the Buy Now button below. This will take you to Paypal. You do not need a Paypal account.