Bandora

Bandora, 7 courses, made by Peter Forrester, 2008.
Created by John Rose in 1561 or 1562, the bandora was the bass end of the mixed or broken consort. It also has a gorgeous solo repertoire. The bandora remained popular, particularly in England, until the middle of the 17th century.
Beautiful instrument in virtually immaculate condition. Strings of brass and iron, tuned: a+a, e+e, c+c, G+G, d+D, c+C, G+GG. Vibrating string length: 73.2cm–77.8cm. Rose of carved wood and parchment and decorative carved head with painted flowers in her hair(!). Comes with bespoke Kingham fitted case and spare strings. Recording coming soon.
£4,300.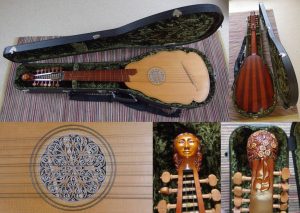 Clarsach (wire strung harp)
Clarsach, 19 strings, made by Ardival.
The clarsach is the traditional harp of Ireland and the Scottish Highland Gaels, strung with wire. This is the Kilcoy Deluxe model, made by Ardival in Ross-shire, Scotland, based on carvings of harps played by mermaids found on the fireplace at Kilcoy Castle on the Black Isle, dating from 1679 (see image below).
The Kilcoy has 19 brass strings, g-d"', and is made entirely of sycamore. It has a hollowed-out soundbox, brass string shoes, and an exterior integral string band. It comes with a Glenn Cronkhite harp case and spare strings.
This model can be heard in the soundfile below, played by Bill Taylor, and this actual instrument is played in the video below by Ian Pittaway (with Andy Casserley as The Night Watch), playing The lovely Northerne Lasse from the early 17th century. This harp is in perfect condition except for one small scuff on the bottom left edge of the back, not visible when playing.
Width (across soundbox) 26 cm; depth (from end of string arm to back of soundbox) 34 cm; length (from end of string arm to base of pillar) 60 cm; height 56 cm; weight 2 kg.
£750