For sale (details below): clarsach, 8 course lute, bandora, bodhran, oud, Kingham case

With all instruments, carriage is paid by the buyer, and collection in person is possible. If anyone would like to visit and try the instrument before you buy, you are most welcome and this is preferable. Overseas sales (outside of the UK) will be considered in the case of known and reputable musicians.   
If you are interested in any instrument, please be in touch via the contact form at the bottom of this page. Offers will be considered.
Clarsach (wire strung harp) by Ardival

Clarsach, 19 strings, made by Ardival.
The clarsach is the traditional harp of Ireland and the Scottish Highland Gaels, strung with wire. This is the Kilcoy Deluxe model, made by Ardival in Ross-shire, Scotland, based on carvings of harps played by mermaids found on the fireplace at Kilcoy Castle on the Black Isle, dating from 1679 (see image below).
The Kilcoy has 19 brass strings, g-d"', and is made entirely of sycamore. It has a hollowed-out soundbox, brass string shoes, and an exterior integral string band. It comes with a Glenn Cronkhite harp case and spare strings.
This model can be heard in the soundfile below, played by Bill Taylor, and this actual instrument is played in the video below by Ian Pittaway (with Andy Casserley as The Night Watch), playing The lovely Northerne Lasse from the early 17th century. This harp is in perfect condition except for one small scuff on the bottom left edge of the back, not visible when playing.
Width (across soundbox) 26 cm; depth (from end of string arm to back of soundbox) 34 cm; length (from end of string arm to base of pillar) 60 cm; height 56 cm; weight 2 kg.
£750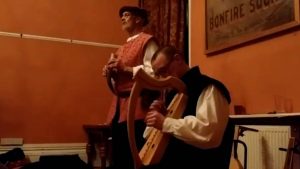 8 course lute by Martin Shepherd

8 course renaissance lute in g' by Martin Shepherd, 2006, after Gerle, with Kingham case. European spruce soundboard, back of figured ash. Currently strung with Aquila nylgut and Savarez KF basses. Vibrating string length, 60cm. Well loved, well looked-after, superb condition.
£3,800
bandora by Peter Forrester

Bandora, 7 courses, made by Peter Forrester, 2008. Beautiful instrument in virtually immaculate condition, originally made for Mark Wheeler to play in Pantagruel. Strings of brass and iron, tuned: a+a, e+e, c+c, G+G, d+D, c+C, G+GG. Vibrating string length: 73.2cm–77.8cm. Rose of carved wood and parchment and decorative carved head with painted flowers in her hair. Comes with bespoke Kingham fitted case and spare strings. Information about the history of the bandora and a video of the instrument for sale being played can be viewed here.
£4,300.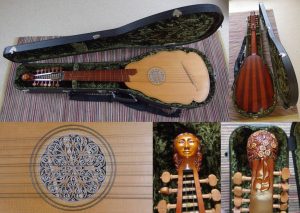 bodhran by Roddy Turner

Bodhran by Roddy Turner. 18½" skin, 6 tuners and tuning key, with case and beater. This instrument is in excellent condition, well looked-after and the skin regularly treated.
£120
Turkish oud
Oud by unknown maker, Turkey (2000). There are a huge number of tunings for the oud. This instrument is currently in a variation of Old Turkish, Armenian and Greek tuning, d' a e B A G, all courses double unisons except the single bottom G. It is currently strung with Aquila nylgut and Savaerez KF basses, which emphasises the middle frequencies. A standard set of modern oud strings, nylon and overwounds, also works well and gives a clean, bright sound. This oud comes with a Kingham case worth £475. This instrument can be seen and heard in the video below.
£800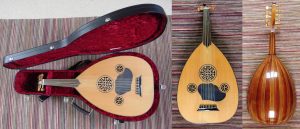 Kingham lute case
Kingham lute case, to fit a renaissance or baroque lute with a vibrating string length of around 70cm. The measurements are as follows. Please note that the plush lining allows for some leeway under the maximum measurements given. Full length inside case: 95cm. Depth of bowl: 18cm. Length from far top of neck rest to the tail end of case – with strap button 76cm – without strap button 75cm. Width of body: 33cm. Peg box pocket – width 18cm – length 19.5 cm – depth 28cm.
£400